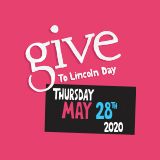 May 1st to May 28th is the annual "Give To Lincoln Day" for Non-profits in our community. Also May 5th is National "GIVING TUESDAY". Any amount will be gratefully welcomed and all donations will receive matching funds!
When Lincoln Comes Together, BIG Things Happen
For 24 hours, on Give to Lincoln Day, every donation given to local nonprofits is made bigger by matching funds.
It is one special day when everyone in Lincoln is asked to make a donation showing their support for the organizations that contribute so much to our great city.
Gifts Given on May 28 Make a BIG Impact
Every donation given makes a bigger impact because nonprofits also get a proportional share of a $500,000 challenge match fund provided by Lincoln Community Foundation and their sponsors.
For example, if a nonprofit received 1% of the total donations raised during Give to Lincoln Day, they will get an additional $4,500 from the challenge match fund.
Go to GiveToLincoln.com and Give BIG
On May 28th, gifts can be made to participating nonprofits online at GiveToLincoln.com from
12am to 11:59pm, or in person at one of our donation stations (find one at GiveToLincoln.com/about). Minimum donation is $10.
PLEASE NOTE: Donations can be given online in advance, starting May 1. Gifts made between May 1 and May 28 will be counted in the dollars raised on Give to Lincoln Day and qualify for matching funds.